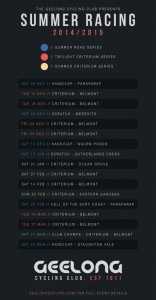 In response to consistent feedback from members, the Geelong Cycling Club has completely overhauled the summer race calendar.  Where previously the calendar was heavily weighted towards daytime criterium races, we now offer a mix of times and events that caters for road racers of all levels and interests.  We have also made major changes to both the entry and marshaling duties – which translates to more racing and better value from your club membership.  Finally, we have conducted a comprehensive review of prizes and prize money, and made changes to the awarding of these.
Summer Calendar
Commencing on 8th November, the Summer Race Season will comprise the:
6-race summer road series
6-race twilight criterium series
4-race summer criterium series
Summer Road Series
We have introduced 6 road races to the summer calendar, which will allow racers to test their skill, speed and fitness on the road during the time when all of us are riding more.  There will be 3 'named' handicap races, and these will be promoted widely to attract racers from other clubs.  There will also be 3 scratch races, including the "Hell of the Surf Coast" – a flat but grueling 55km circuit race around Paraparap, featuring 18km of hard-packed gravel roads.
Twilight Criterium Series
The popularity of CMCs Tuesday night criterium series has inspired us to offer this brand new 6-race twilight criterium series.  Conducted on weeknights (Tuesdays or Fridays), members can supplement their mid-week track racing fix with some red zone action around the Belmont circuit.
Summer Criterium Series
This is our traditional weekend summer criterium series, now condensed to a 4-week, 4-race series commencing at the end of January.  In addition to races at Belmont, we'll be racing at Ocean Grove and Eastern Gardens.  The Club Criterium Championships will be run in the latter part of March, at the Belmont circuit.
Summer Race Pass
This season, we are launching an exciting initiative: The Summer Race Pass.  Purchase of the Summer Race Pass gives members entry into all events on the Club's Summer Race Calendar.  The Summer Race Pass represents extraordinary value for money – there are 17 races in the calendar, so members will save hundreds of dollars, particularly when purchasing the early bird special!!
Alternatively, members can continue to enter and pay on a casual basis.  Race entry fees are listed below:
Summer Race Pass:
| | |
| --- | --- |
| Senior Men | $120 ($100 if paid before 6pm on 18th November) Now $75 ($125 with transponder) |
| Women | $50 |
| Juniors | $50 |
Note that holders of a Senior Summer Pass are required to have their own transponder. Transponders can be purchased for $50 through the club. More information about transponder ownership can be found here: https://geelongcycling.com/events/transponders/
Casual Race Entry:
| | |
| --- | --- |
| Road Races | $20 |
| Criterium Races | $15 |
Transponders can be hired for $5 per race.
Commissaire and Marshalling Duties
In order to bolster participation at races, while removing the frustrations of marshaling, Geelong Cycling Club will now arrange a Race Commissaire, marshalls and follow cars.  This is a significant undertaking by the Club, and one which requires a significant reinvestment of revenue that is generated from race entry.  It also means there're no excuses to not race!
Prizes and Prize Money
In a break from tradition, for the Summer Race Season, the Club will not be awarding small amounts of prizemoney for each grade of every race.  Instead, there will be significant prizes awarded to the podium of each of the handicaps, the scratch race series and the two criterium series.  There will also be trophies and other mementos awarded.
The total pool will depend upon the number of Summer Race Passes sold, in addition to casual race entries – particularly from racers from other clubs.