When:
February 15, 2020 @ 4:45 pm
2020-02-15T16:45:00+11:00
2020-02-15T17:15:00+11:00
Where:
Deakin Waurn ponds

Please take note of the new race light policy
Race 3 Summer Criterium Series – Waurn Ponds.
Thanks to Deakin Waurn Ponds we have been allowed access to race on a closed circuit at the university. The fast and flowing 700m course will be a new challenge for riders and will be on fully closed roads.
Note: Deakin is a Non-Smoking Venue. No pets are allowed on campus. Please ensure all rubbish is taken home.
There are no accessible toilet facilities onsite.
Failure to comply with the above will jeopardises our ability to use the facility.
| Grade | Time | Distance |
| --- | --- | --- |
| Juniors | 4:45pm | 20min + 3 lap |
| E (Social Race) | 5:10pm | 20min + 3 lap |
| D Grade | 5:35pm | 25min + 3 laps |
| C Grade | 6:05pm | 30min + 3 laps |
| B Grade | 6:40pm | 35min + 3 laps |
| A Grade | 7:20pm | 40min + 3 laps |
All Season Pass holders are pre-entered into the event.
Casual Race Entry;
Junior: $5 pre race entry.
Senior; $10 pre race entry.
Note; $5 transponder hire fee is payable. Personal transponders can be purchased through the club. Click here for information and purchase options.
Casual race entry accepted on the night, please arrive at least 20 minutes prior to race start time.
New Riders
GCC welcomes any first time riders to come along and try racing.  All riders require at least a temporary racing licence before participating. 1 & 3 race licences can be purchased here.   Please contact; membership.geelongcycling@gmail.com or info@geelongcycling.com  for further details pertaining to short term licence options and how to get started.
All entries via the online system.
Access to the event is via Pigdons Rd. Take gate 2, head due west along Nicol Drive. Free parking is available in the area highlighted below.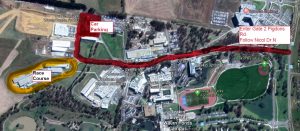 Any event questions can be sent to; racedirector@geelongcycling.com
Summer race pass holders will be pre entered into to all events. A $5 transponder hire fee will be charged for rides without a personal transponder.
GCC welcomes riders from all clubs to race.