Geelong Cycling Club Juniors
Geelong Cycling Club has an extensive junior cycling program that runs year round. All aspects of both road and track are available to members. We offer various types of Velodrome Racing (Track), Road and Criterium (Crit) throughout the year at an introductory and Club level.
As a Club we offer a Junior Cycling Development program to help set the foundation and skills that will help improve and continue to enjoy your cycling.
Members have access to Tuesday afternoon training sessions (all year round) at the Belmont Criterium Track under the guidance of club coach Stefan Bos.
Road & Criterium racing is conducted year round, generally on a Saturday over a variety of courses in the Geelong and District.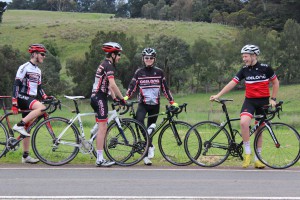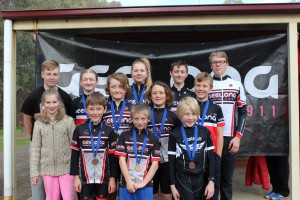 Please feel free to contact Sean Clark (Junior Coordinator) by email or phone 0408 524 951 with any inquiries relating to Junior Cycling with GCC.
Crit Track Training (All Year)
Coaches: Stefan Bos
Venue: Belmont Criterium track (opposite K-Mart)
Sessions:
| Day | Time |
| --- | --- |
| Tuesday | 4:30 – 5:30 |
Track Training and Racing (October – March)
(Track Bikes Available for Use)
Coach: Stefan Bos
Venue: Geelong West Track (Church Street)
Sessions:
| Day | Time | information |
| --- | --- | --- |
| Monday | 4.00 – 5.45 | Junior Training U11 – U15 |
| Monday | 5.30 – 6.45 | Junior Training U17 – U19 and Seniors |
| Wednesday | 5.45 – 7.30/8.00 | Racing |
Tri Series Round 1 Round 1 of the Tri Series with Colac and Ballarat was raced on the weekend. Gail winds, rain and even snow, as reported by the locals the day before had passed and a perfect day for racing was had. Light winds and bright sunshine were enjoyed by all riders on the Meredith circuit. A strong presence of Geelong riders in B & C grade ensured Geelong heads in to round 2 at Dereel hosted by Ballarat with a commanding 18 point lead over BSCC. How it happened After just returning from his Belgium adventure Nick Squillari, a strong supporter of club racing wasted no time in strapping on a number. Along with Kris Hink they were GCC's
Read more 〉〉
Last weekend the Para-cycling National Champs were held in Echuca where rain, fog and mud were tough adversaries. The competition saw national champions crowned in both road and time trials across a number of classifications for those with vision or physical impairments After a couple of tune up club races Geelong Cycling Club's Kaitlyn Schurmann head up for her first national's. With the dedication and determination Kaitlyn always shows she was able to win both the road race and time trail in the WC1 category, a fantastic effort! All of the Geelong Cycling Club wish Kaitlyn every congratulations on this outstanding achievement. Above photo is of Kaitlyn crossing the line proudly wearing the GCC colours.
A quick reminder that the Geelong Cycling Club have the EXCLUSIVE use of the world class DISC centre on 11 May 2014 between 11am and 2pm (Mothers Day). The format of the day will be finalised once we arrive and are able to confirm attendance, but is likely to consist of 1.5hr of warm up / getting used to the banked velodrome, followed by some impromptu racing. Please note that this event does not form part of the GCC race calendar but rather a trial to gauge the level of interest in utilising this facility. If the level of interest is high enough, GCC have the opportunity to make this a more regular event. So please come along and help
Read more 〉〉