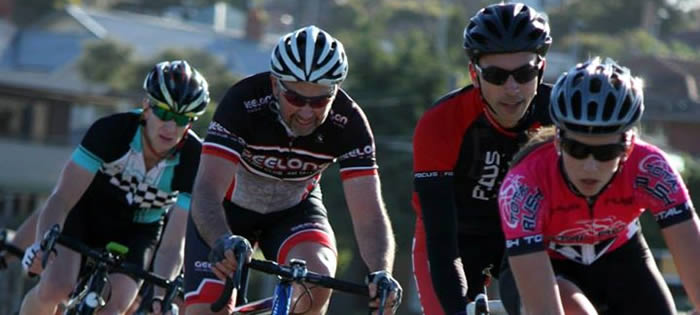 With the overhaul of the Summer 2014/15 race calendar and the introduction of the Summer Race Series and Summer Race Pass, the ambition of the club was to provide an alternative to the usual summer crit racing offering. Scratch races, handicaps and the Hell of the Surfcoast coupled with crits – all the while ensuring that no member would be required to marshal during the sunny weather and that Dan Wilson actually has a chance to get out and race.
A massive thank you to all who have supported the Series, as we can already report it has been a success. Evening crit racing at 'Belmont Island' has seen terrific turn out. Racing the shorter, southern, loop all grades have had a great mix of bunch sprint finishes and break-away wins. Current series top three are:
1. Karl Starling
2. Paul Beretta
3. Daniel Cavell
With fourth place overall Emma Scott, showing the boys how to get it done. With 6 races still to go in the series and your top 6 results counting towards your aggregate score, there are plenty of riders within reach of the top 3.
The road racing of the Summer Race Series has had a bit more of a mixed response, with a less than expected turn out for the Meredith scratch race contrasting with a huge field for the Christmas Handicap. The latter being no exaggeration, with entries exceeding those for the Ross Bush. Scratch got up on the day, with Nick Squillari taking 1st and fastest – due in large part to a very cohesive and organised Scratch bunch. Series top 3 look like this
1. Scott Betteridge
2. Luke Haines
3. Karl Starling
With the designer of the dapper new GCC kit Linc Stolz just one point back in 4th. Plenty of ground still able to be made up, as there are three races still remaining in summer road series – with your top three results counting to your overall aggregate.
The Series returns this Saturday with the Parkers Road scratch race from 10AM. Looking forward to a bigger and more exciting year of racing at GCC, members and guests from other clubs alike. Spread the word, come along and bring a friend!