Racing Wrap
The Presidents Handicap was run and won on the 7.8K St Leonards course Sunday week ago. Despite 18 GCC riders competing in the Country champs the day before a good field of riders assembled for the race. Buoyed by the unseasonal warm conditions and the near flat course average speeds were well and truly up across all bunches.
Most bunches rode at or just above their predicated average speeds. But it was the front markers making the most of the ideal conditions were able to gain the most to get the result. Riding of Limit Kanye Bridger despite riding away from his tiring bunch was able to hold on for his first handicap victory. In a close sprint for the line Daniel Cavell just edged out Richard Hill to round out the podium. New rider Ash Leone coming home 4th.
It was great to see the return to racing of some past members, including former Australian Madison Champion, James Langedyk. James's presence sure to make A grade far tougher in the coming months.
Special thanks to "Bike Safe" for their runners up prizes. If you aren't a member of Bike Safe and are unaware of their contribution to cycling infrastructure in Geelong, Bellarine & Surf coast please check their tireless and fruitful work out; www.geelongsurfcoast.bikesafe.com.au
Also thanks to Kaye Kinnersly for the wonderful photos of the event. They certainly started some conversations & comment on Facebook. Check out the album here;
https://www.facebook.com/media/set/?set=a.10152139216827339.1073741854.43286352338&type=1
Full senior and junior results;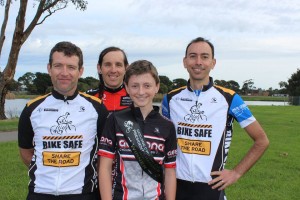 NRS Tour of Toowoomba
Well done GCC member Oliver Kent-Spark who after a string of strong results has finally cracked it for his first win on the NRS (National Road Series). After competing in couple of GCC races in the lead up Oliver took out stage 4 of the Tour of Toowoomba. Let's hope this is the first of many.
Check out the video of Oliver's win;
http://www.sbs.com.au/cyclingcentral/road/video/265339971731/Tour-of-Toowoomba-Stage-4-+-5
CV Open TT
Over 70 riders converged on Waurn Ponds for the Cycling Victoria Open Time Trial on Saturday. Conditions were excellent for racing and most enjoyed the new circuit.
Well done to Tony Butler & Harry Weisinger who finished 2nd & 3rd respectively in their grade. Thanks to those who assisted on the day show casing GCC ability to host a first class event. Race results here;
www.geelongcycling.com/results/?mylaps=type,event,eventid,1020459