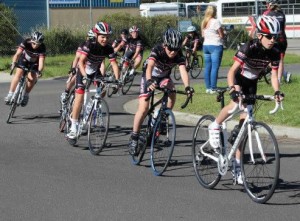 Round 3 of the summer criterium series headed to Ocean Grove last Saturday evening. Conditions were ideal for racing and spectators who were on hand to enjoy some fast racing.
Sixteen juniors hit the start line to kick racing off. They were able to put all their skills learnt on Tuesday evening training to good use around this fast circuit, cornering confidentially as large bunch. Riders were keen to test each other's legs with many attacks off the front of the bunch. Well done to all.
D grade followed the juniors with riders happy to work turns early in the race. The local milk truck halted proceedings midway though. Denise O'Loghlen was left to lament the break, claiming it had cost her certain victory! In the end it became a race in 3 with John Miro towing the bunch late in the race. Dom Van Slageren stepping up from the juniors for the first time put in a great ride to claim second, running out of junior gears in a dash to the line. Well done to new member Daniel Cavell on taking his first win.
C grade proved to be one of the toughest races of night with a powerful break away from Piers Nyeholt splitting the bunch. After a number of laps off the front he was reeled in by Tim St Quentin & Barrie Kinnersly with the rest of the field fighting to stay in contact. Piers paid for his efforts allowing Tim to take the win, Barrie finishing second.
It was ground hog day in B grade with the Ocean Grove bandit striking again. Adrian Copeland put in a powerful surge on lap 30 stretching the field out but it wasn't enough to make a winning break. On the bell lap Lincoln Stolz got a small break but wasn't able to hold it to the line. Surging through the field John Burtt put in his fastest lap @ 48Kph to take yet another win at the Grove, Grant Blake coming home second.
After a neutral first lap the pace was well and truly on in A Grade. All riders willing to hit the front and drill it. Despite the high pace a number of riders tried their luck of the front of the bunch. None were more combative than Daniel Lamb who was super strong, holding the bunch at bay for a number laps. Leigh Clifford & Lee Burchell tried their luck also but a bunch kick look inevitable. On the bell lap Will Wettenhall hit out early down the back straight but into the final bend Erik Holt had found the front and looked a likely winner. However the Criterium specialist, Gary Wearmouth railed up the inside to take the win by just 0.057 seconds from Erik with Daniel in 3rd.
Full event results here, event photos here.