When:
2018-12-02T00:00:00+11:00
2018-12-03T00:00:00+11:00
Where:
Geelong West Oval & Velodrome
Church St & Weddell Rd
North Geelong VIC 3215
Australia

Please take note of the new race light policy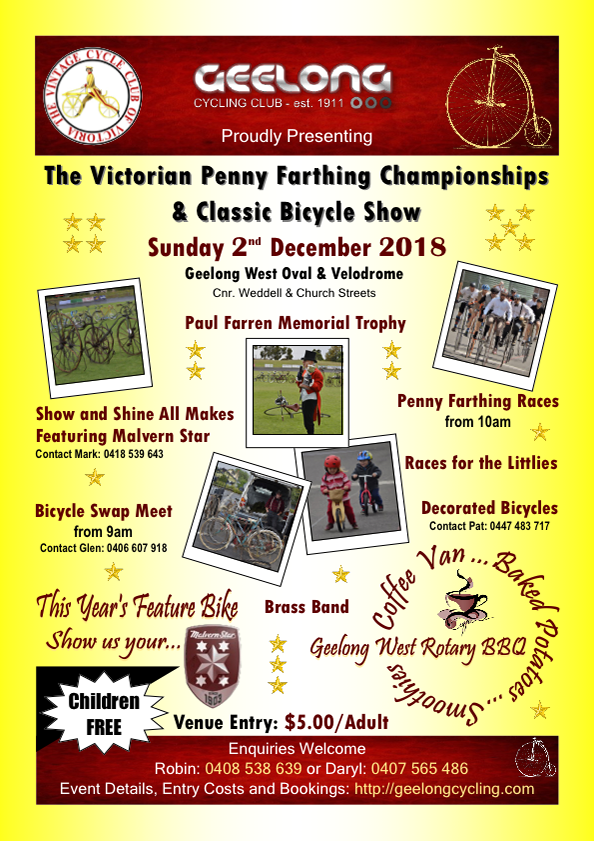 General entry $5.00 Adults, Children under 15 Free
Geelong West Rotary Club barbecue, Baked Potatoes, Smoothies & Coffee.
SWAP MEET
Set up from 7am, Selling from 9am.
$10 PER STALL (PAY ON THE DAY)
Shelters to be weighted with sandbags or water containers.
NO PEGS to be hammered into the ground.
SHOW & SHINE
Entries received from 8am.
$2 per bicycle (PAY ON THE DAY)
Owners must register their names & categories entered with the Show & Shine manager on the day. Owners to supply bike stands.
Show & Shine Categories
1880 – 1920
Vintage bikes, racing & roadsters 1921 – 1960
Racing bikes 1961 – 1990 (ie not STI)
Racing bikes 1990 = 2000 (ie with STI)
Racing bikes, post 2000
Chainless & unusual drive
American heavyweight, inc. balloon tyre, tank & muscle bikes
Best Malvern Star – Original condition
Best Malvern Star – Restored
Dragsters
Best restored bicycle
Best bicycle in original condition
Best in show
PAUL FARREN MEMORIAL TROPHY to be presented annually to the owner of the best & most "Farrenest"  bicycle or tricycle present on the day.
DECORATED BICYCLES/TRICYCLES
Under 7 & 8-12 years. Entry free
CHILDREN'S RACES
Under 5  & 5-8 years. Entry free
GRAND PARADE of vintage bicycles & tricycles, accompanied by the Geelong West Band.
Fashions on the velodrome
RACES
From 10 am
ENTRY $25 PER FAMILY
Helmets compulsory, but please dress to complement the age of your bicycle.
Medals for first 3 placegetters, Sashes for champions. Programme may need to be changed depending on number of entries
Vintage racing bike race
Geelong Cycling Club race(s)
PENNY FARTHING RACES (Note the regulations for Penny Farthing Races.)
Heats will be conducted if necessary.
Slow Race 25 m. Last to finish wins
Gentlemen's Championship. 4 laps
Ladies' Championship. 2 laps
Junior Race (Under 16). 2 laps
High Wheel Half Mile. 2 laps
Veterans 50 – 59 years. 2 laps
Veterans 60 – 69 years. 2 laps
Veterans 70 and over. 2 laps
Novice race for non-medal winners. 2 laps
Vintage bikes – Any pre 1920 bikes, but NOT Penny Farthings
Penny Farthing Teams pursuit.
PRESENTATIONS AT END OF PROGRAMME.