When:
February 29, 2020 @ 8:15 am – 1:00 pm
2020-02-29T08:15:00+11:00
2020-02-29T13:00:00+11:00
Where:
Eastern Gardens - Geelong

Please take note of the new race light policy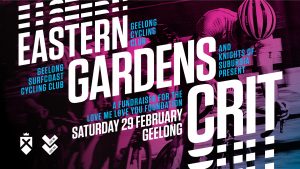 Geelong Cycling Club (GCC) & Geelong & Surfcoast Cycling Club (GSCC), along with the Knights of Suburbia present the Eastern Gardens Crit-a-fundraiser for the Love Me Love You Foundation on the 29th FEBRUARY 2020 at Eastern Gardens, Geelong.
Open to all Cycling Australia members and Veteran's Cycling Victoria (VCV) affiliated club members.
Entries open NOW and close 26/02/20
Course Details Here
BBQ and drinks onsite. Donations welcome.
Schedule is as follows:
Cycling Australia Licence
8.15AM WOMEN & JUNIORS
JUNIORS 20 MIN + 1 LAP
WOMEN's C 25 MIN + 2 LAPS
WOMEN's B 30 MIN + 2 LAPS
WOMEN'S A 35 MIN + 2 LAPS
9.00AM C & D GRADE
C GRADE – 40 MIN +2 LAPS
D GRADE – 30 MIN +2 LAPS
—
VCV members (VETS)
9.50AM
VETS – 30–45MIN +2 LAPS BASED ON GRADE A thru to D
—
Brief presentation from Love Me Love You Founder Lance Picioane
—
Cycling Australia Licence
10.50AM A & B GRADE
A GRADE 50 MIN +2 LAPS
B GRADE 45 MIN +2 LAPS
VCV members WOMEN & MEN Combined races/$20.00 entry details. Entry procedure TBC
Prizes will be awarded on the day.
Ist women in each grade will be eligible for a prize. (entry dependent)
Podium positions will be recognised for both women and men.
CA members WOMEN only races $20 entry. Prizes on day.
CA members MIXED race entry $20 entry. Prizes on day.
Not a VCV club member? Come and Try as a "trial rider". To qualify as a trial rider, you must be at least 30yo, not raced with a VCV Club within the last 5 years, and are then eligible to enjoy 2 trial free rides with the same club within a calendar month, without taking out membership. You will be required to fill out a form to cover insurance, and are not eligible for placings unless you take out membership. You will be contacted beforehand by the handicapper to discuss an appropriate mark for the race.
Please email secretary@gscc.net.au for the required form.
Not a CA member? https://cycling.org.au/bringamate
Referral by existing CA member gets you a two week free licence.
Alternatively, CA offer a 2 month membership for $50
https://cycling.tidyhq.com/public/membership_levels/22a37cbd2cfe