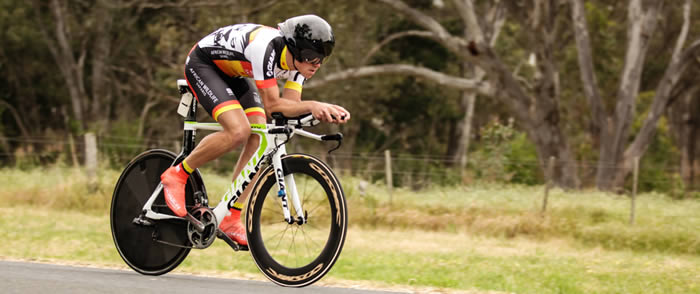 Photo courtesy of JXP Photography
Congratulations to Nick Squillari on winning the Victorian Open Time Trial title in Bendigo last weekend.
Nick won well, 25 seconds clear of Jason Spencer, of Blackburn, and Beijing Olympian, Tasmanian Mark Jamieson.
"I am pretty stoked with this win", Squillari said. "I am just so proud to win a title, especially in Victoria which has a strong cycling scene."

"I am an adopted Victorian, and to get a Viccy title is a terrific result", said Squillari, who rides for the Joel Pearson-managed African Wildlife Safari team.
Well done from all of the GCC.
Peloton Cafe
Read Nick's blog entry on Peloton Cafe.
Race results
View the results from the ITT Open Road Championships
TV coverage from the Vic Open Road Champs (featuring Nick)