The 2017 Victorian Penny Farthing Championships & Classic Bike Show
Geelong West Velodrome, cnr Weddell & Church Sts.
Sunday December 3
rd

, 2017

Please note: a recent security upgrade to Mozilla Firefox has resulted in an issue with this payment gateway.
SportsTG are aware of the issue and have advised that any other browser (eg: Google Chrome or Internet Explorer) will allow you to submit your entry securely.
---
Sunday Events
(all at Geelong West Velodrome)
Entry Adults $5.00, Children free
Baked potatoes, smoothies, a coffee and cakes cart, Rotary Club of Geelong West BBQ and cold drinks will be available.
= 9am =
SWAP MEET from 9am, $10.00 per site. 8 am set up.
SHOW & SHINE from 9am, entry $2.00 per bike. 8 am set up.
The Show & Shine is not limited to the listed categories. Don't leave your bike home because you think it doesn't fit a category.
Categories:
Pre 1900
Vintage racing bikes up to 1960; including roadsters
Racing bikes 1961 – 1985, 1985-2000, 2000+
BMX
American heavy weight; includes balloon tyre, tank bike and muscle bike
Best Australian built & Best Overseas built
Dragster
Chainless & unusual drive
= 10am =
RACES From 10 am. Entry $25.00 per family.
Note that the programme may need to change based on the number of entries.
Helmets compulsory, but please dress to complement the age of your bicycle.
Prizes for best presented rider and best dressed spectators.
Medallions awarded to first 3 placegetters plus Sashes for Champions.
Balance bike event for under 5 years (150m)
Junior race 5-7 years (1 lap)
Junior handicap (2 laps)
Senior handicap
Vintage racing bike race; including roadsters
Velocipede race (1 lap on grass)
Vintage riders (50+) in vintage costume on vintage cycles (pre 1920) (Not penny farthings)
Hobby Horse Race (1 lap on grass)
PENNY FARTHING EVENTS
IMPORTANT: Please take note of the rules and regulations for racing, and Heats will be conducted if necessary.
Slow race 25m (last to finish wins)
Gentlemen's Championship (4 laps,)
Ladies' Championship (2 laps)
Juniors, Under 16 (2 laps)
High wheel half mile (2 laps)
Veterans 50-64 years (2 laps)
Veterans 65+ (2 laps)
Penny Farthing Team Pursuit (2 teams of 4)
Slalom
PRESENTATIONS AT END OF PROGRAMME
---

Winners Sports Nutrition are a proud supporter of Geelong Cycling Club.
Winners energy bars, gels and chews have been developed with the help of Cadel Evans to fuel your performance.
Winners are providing members with 10% off all orders from winnersbars.com.au with code: GEELONGCC
---
2017-18 Summer Racing Program
The 2017-18 Summer Racing Program is now available for download.
Keep an eye on the Event calendar for individual race details closer to their date and we look forward to seeing you all out there.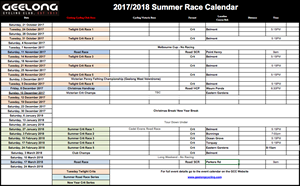 ---
Track is back!
Junior and senior track training commences on Monday, 23rd October 2017.
Track racing commences on Wednesday, 25th October.
Track is back. Starting Monday 23rd @ 4.30 for training. Wednesday nights for racing

Posted by Geelong Cycling Club on Sunday, 15 October 2017
---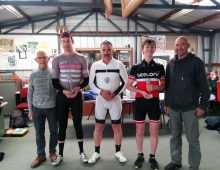 The 2017 road season wrapped up over the course of the last month with some great racing. Club Championships After finishing 3rd in the road champs and winning the time trial Tom Paton was crowned the 2017 Club Champion. Tom has again the honor of wearing the #1 race number for the next 12 months. In the women's, Danni Bridger held daughter Molly courtesy of a superior time trial to win the women's title. Ross Bush A high quality but small size field raced the 2017 Ross Bush Memorial Handicap. A scratch bunch that included past & present club champions plus a Warny winner were always going to be hard to hold off. Colin Smith riding off limit lost his
Read more »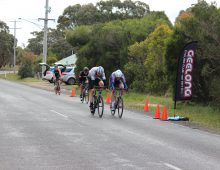 Maude was the venue for the 2017 Club Road Championships. A late change in course to avoid the overly aggressive wild life this time of year saw rider's complete laps of the tough Maude/ Steiglitz/ She Oaks loop. Small but quality fields in all grades hit the start line and despite the testing hills bunches remained largely together. A grade & for the title of club road champion was raced over 4 laps and despite a solid tempo no rider was able to make a decisive break or split. The quality of the riders and evenness of their abilities ensued that the races was going to come down to a bunch kick. Coming around the final bend to the line,
Read more »
The Spring Eve Handicap at Point Henry kicked off 5 minutes early in what could be a first for GCC. As is typical for the exposed Point Henry course, the wind continued to build as the 45K handicap was raced. All bunches had the chance to gauge their progress in the race over the 8 lap hot dog course. The wind played havoc with the front bunches which split up early on. But when when 2nd & 3rd scratch combined to form a well organised bunch it looked like Scratch may have their work cut out to catch them. After the combined 2nd & 3rd scratch bunches found the front of the race with two laps left it looked to
Read more »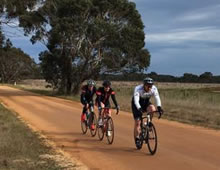 Not the hell like conditions expected for the 2017 running of the "Hell of the Surfcoast", but testing all the same with the usual corrugations and loose dirt on the last section keeping riders honest. Good numbers in all grades and lots of attacking made for a great morning's racing. A small but high quality A grade field saw some of the best local off rode talent take on the traditional roadies. Tom Ovens taking the win by a small margin over inform rider Trent Clifford. In B grade Stephan Van der Bruggen lead by example for the rest of his Geelong Performance Crew by taking his long awaited maiden cycling race victory. After some long range solo moves early
Read more »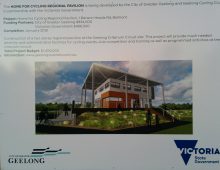 Fantastic news, construction has started on the new ultra modern $1.4 million Cycling Pavilion at the Belmont Criterium Track. It is due to open in January 2018. Joint funding by the Victorian Government and City of Greater Geelong was approved on 9th October 2013 after "Council funded the feasibility study from the Community Priority Fund after extensive consultation with the Geelong Cycling Club." Congratulations to Geelong Cycling Club President John Burtt for his role on the Steering Committee in making this vision become reality. The new Pavilion will become the hub of Geelong Cycling Club and the general cycling community in Geelong. Parents will be able to watch in comfort their children train and race. The building will also house historical
Read more »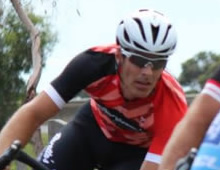 Due to a number of factors that have been out of Geelong Cycling Club's control, we have had to make a few adjustments to the racing calendar in March, including a change of venue and date for the Club Criterium Championships. The Club Criterium Championships will now be raced on Saturday the 5th of March at Eastern Gardens. All the event details can be found on the event calendar. We sincerely apologies for the late notice. It is something that we do our best to avoid, however there are extenuating circumstances that have lead to this last minute change. The combination of a late change of venue for the Victorian Criterium Championships and the late moving of the Mansfield Tour to
Read more »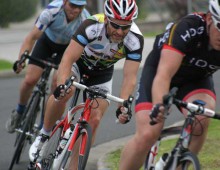 The four race New Year Criterium Series kicks off on the 30th of January with a twilight crit at Belmont. For this series we have team up with MCL (Melbourne Cycling League) to help promote and expand the series. This partnership has allowed us to offer a large prize pool for the top 10 in the series. As a result of this partnership we have introduced a New Year Criterium Series Pass for riders who don't already have a season pass. At $40 ($15 casual race fee), this represents great value for money for riders looking to participate in this exciting series. By purchasing a series pass you will be automatically entered into all four races in the series. The
Read more »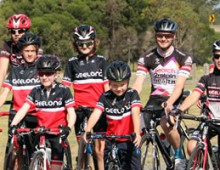 As most members would now be aware Oliver (Ollie) Kent-Spark has fulfilled a lifelong dream recently signing his first pro contract with Irish registered UCI Continental team An Post-Chain Reaction Sean Kelly Cycling. The team was founded by Irish Cycling Legend Sean Kelly in 2006. Many would know recognise Sean's distinctive voice and commentary style on some of Europe's biggest one day races. Ollie will be teaming up at An Post-Chain Reaction Sean Kelly Cycling with long-time friend, past Herald Sun Tour winner Calvin Watson. Calvin has raced the past few seasons at Trek Factory Racing. Ollie is now enjoying his last few weeks training down under before he heads overseas early in January. Ollie will be racing the National
Read more »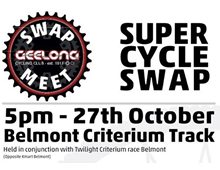 In conjunction with the opening race of the Summer Racing Calendar on the 27th of October, GCC will be conducting a Cycle Swap Meet at the Belmont Criterium Track from 5pm. This is your chance to clear out some old gear or pick up something new. Full details and contacts are on the attached flyer. All welcome so please spread the word among your cycling groups.
Save on 2016 Cycling Australia Membership. Join from today (Oct 1st) and get 3 months free (Oct, Nov, Dec). Regional Race membership for Geelong Cycling Club is just $201 for Masters. Kids Race membership (Under 13 or 11 or 9) is $77. The new Ride Membership which includes insurance, replaces the previous Silver/Recreational licence. Ride membership for adults under 64 is $99; $74 for over 65. 3 months trial Ride membership is just $29. Below is a list of licence categories and pricing. For further information please contact the membership manager, John: membership.geelongcycling@gmail.com Or apply online from today through Cycling Australia website: CA membership application link. Race – Elite and U23 $332.00 This membership allows entry to all open category races conducted
Read more »