Winter race calendar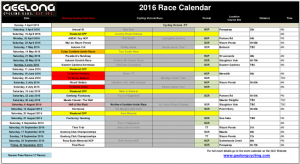 The Winter race calendar is now available for download in PDF format.
Event details will be published in the website event calendar as they are confirmed.
Please refer to the calendar throughout the season for further information.
Season Race Pass
The Road Race Season Pass is back for the Road Race Season between April and October 2016. Once again the season pass will see you pre-entered into all events GCC host on the Road Race Calendar and preclude you from having to do race day marshalling duty.
The Season Race Pass represents great value for money. With 17 races in the calendar, riders who purchase a season pass will not only save money the will not be required to forgo racing to marshal at club races. Members who don't purchase season passes will be asked to marshal at selected events on the GCC calendar.
Season passes are open to all riders of all clubs.
Alternatively, members can continue to enter and pay on a casual basis.  Season Passes and Single Race entry fees are listed below:
Season Race Pass
| | |
| --- | --- |
| Senior Men | $120 ($170 with transponder) |
| Women | $100 |
| Juniors | $100 (racing seniors) |
| Juniors | $80 (training and racing) |
| Family Pass | $240 (all inclusive) |
| Transponder | $50 |
Note that holders of a Senior Road Race Pass are required to have their own transponder.
Transponders can be purchased for $50 through the club. More information about transponder ownership can be found here.
Casual Race Entry
| | |
| --- | --- |
| Road Races | $15 pre-entered online / $20 race day entry |
| Time trails | $10 |
Commissaire and Marshalling Duties
In order to bolster participation at races, while removing the frustrations of marshaling, Geelong Cycling Club will arrange a Race Commissaire, marshalls and follow cars.  This is a significant undertaking by the Club, and one which requires a significant reinvestment of revenue that is generated from race entry.  It also means there're no excuses to not race!
Members who choose not to purchase a season pass will be asked do one marshalling duty during the road race season. GCC will determine which races require marshals and will give advanced warning of this requirement.
Prizes and Prize Money
Again the club will not be awarding small amounts of prize money for each grade of every race. Instead, there will be trophies and other mementos awarded. With the main focus on series prizes within the season calendar.
The "Donald Wilson" Road Race Aggregate winner will be the rider with the highest combined points scored in 10 of the 14 races in the series.
The total pool will depend upon the number of Season Race Passes sold, in addition to casual race entries – particularly from racers from other clubs.
---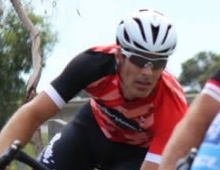 Due to a number of factors that have been out of Geelong Cycling Club's control, we have had to make a few adjustments to the racing calendar in March, including a change of venue and date for the Club Criterium Championships. The Club Criterium Championships will now be raced on Saturday the 5th of March at Eastern Gardens. All the event details can be found on the event calendar. We sincerely apologies for the late notice. It is something that we do our best to avoid, however there are extenuating circumstances that have lead to this last minute change. The combination of a late change of venue for the Victorian Criterium Championships and the late moving of the Mansfield Tour to …
Read more »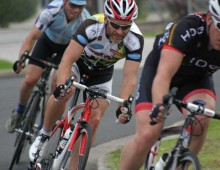 The four race New Year Criterium Series kicks off on the 30th of January with a twilight crit at Belmont. For this series we have team up with MCL (Melbourne Cycling League) to help promote and expand the series. This partnership has allowed us to offer a large prize pool for the top 10 in the series. As a result of this partnership we have introduced a New Year Criterium Series Pass for riders who don't already have a season pass. At $40 ($15 casual race fee), this represents great value for money for riders looking to participate in this exciting series. By purchasing a series pass you will be automatically entered into all four races in the series. The …
Read more »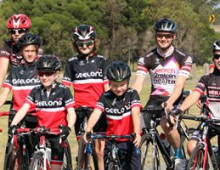 As most members would now be aware Oliver (Ollie) Kent-Spark has fulfilled a lifelong dream recently signing his first pro contract with Irish registered UCI Continental team An Post-Chain Reaction Sean Kelly Cycling. The team was founded by Irish Cycling Legend Sean Kelly in 2006. Many would know recognise Sean's distinctive voice and commentary style on some of Europe's biggest one day races. Ollie will be teaming up at An Post-Chain Reaction Sean Kelly Cycling with long-time friend, past Herald Sun Tour winner Calvin Watson. Calvin has raced the past few seasons at Trek Factory Racing. Ollie is now enjoying his last few weeks training down under before he heads overseas early in January. Ollie will be racing the National …
Read more »
Track Training Mondays 4.15-5.30 Juniors 5.30-7.00 Seniors Track Racing Wednesdays 6.00-8.00 (commencing 21st October) [ Special Offer for those who don't have a Race Licence: FREE 3 RACE LICENCE ]
May I start by offering our heartfelt condolences to Kylie Clarke on the recent death of her Mother and particularly to the boys, Lincoln, Harrison, Fraser and Cooper. How pleasing to see the response to our Summer Racing Program, excellent numbers at both Belmont Island evening criteriums including pleasing fields in A grade at this previously contentious venue where rumors have abounded over its safety. Clearly the Belmont Island track is extremely dangerous for those riders who insist on continuing to pedal on any of the tight corners. After last Tuesday's race it seems action is necessary before this Friday's event to impress upon riders their need to take their responsibilities seriously for the safety of the race and their …
Read more »
U/11 Xavier Starling 19.37 U/13W Madeleine Starling 17.45 U/13 Fraser Clark 19.24 U/15 Bryce Bridger 16.85 Daniel Warfe 17.15 Harry Clark 17.18 Oliver Baric 19.58 U/17 Lincoln Clark 14.70 Kane Bridger 15.52 Flynn McLeod 16.52 U/19 Dom Van Slageren 14.42 Joey McMahon 14.84 U/19W Olivia Davison 15.54 Molly Bridger 15.79 James Blight 12.55 Paul Beasley 14.35 Karl Starling 14.39 Craig Bridger 15.04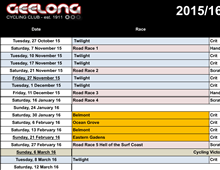 Geelong Cycling Club is pleased to present the 2015/16 Summer Road & Criterium Race Calendar. With a total of 17 road & criterium races, across a variety of terrain, courses and time slots there is something for all riders. A smaller download able calendar will appear on the front page of the website shortly.  For entries and full event details go to the calendar on right hand side of the website under "Up Coming Events". Summer Race Season Pass The season pass is back and again represents incredible value for road, criterium & track riders. Below is a long list of options to cater for riders of all disciplines. Buying a season pass will preclude you from having to do …
Read more »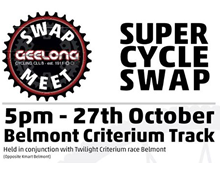 In conjunction with the opening race of the Summer Racing Calendar on the 27th of October, GCC will be conducting a Cycle Swap Meet at the Belmont Criterium Track from 5pm. This is your chance to clear out some old gear or pick up something new. Full details and contacts are on the attached flyer. All welcome so please spread the word among your cycling groups.
Save on 2016 Cycling Australia Membership. Join from today (Oct 1st) and get 3 months free (Oct, Nov, Dec). Regional Race membership for Geelong Cycling Club is just $201 for Masters. Kids Race membership (Under 13 or 11 or 9) is $77. The new Ride Membership which includes insurance, replaces the previous Silver/Recreational licence. Ride membership for adults under 64 is $99; $74 for over 65. 3 months trial Ride membership is just $29. Below is a list of licence categories and pricing. For further information please contact the membership manager, John: membership.geelongcycling@gmail.com Or apply online from today through Cycling Australia website: CA membership application link. Race – Elite and U23 $332.00 This membership allows entry to all open category races conducted …
Read more »
SENIOR Sixty riders, eighty kilometers of racing, 600 meters of climbing, a large bunch finish, 0.023 seconds separating the first two riders, the 2015 Ross Bush Memorial Handicap was one hell of a race. The Annual race that honours the late Ross Bush who was tragically killed while out training 18 years ago was unusually raced in near perfect conditions, cool temperatures and light winds. A small but cooperative limit bunch got things underway, sharing the load and riding consistently over the first part of the race. Next back the 5th SCR (scratch) were working well together, 3rd SCR were flying and quickly picked up 4th SCR to form a super group. A hugely talented and well credentialed SCR bunch …
Read more »