---
Le Tour is here. Get your GCC Tour Tips in now!
---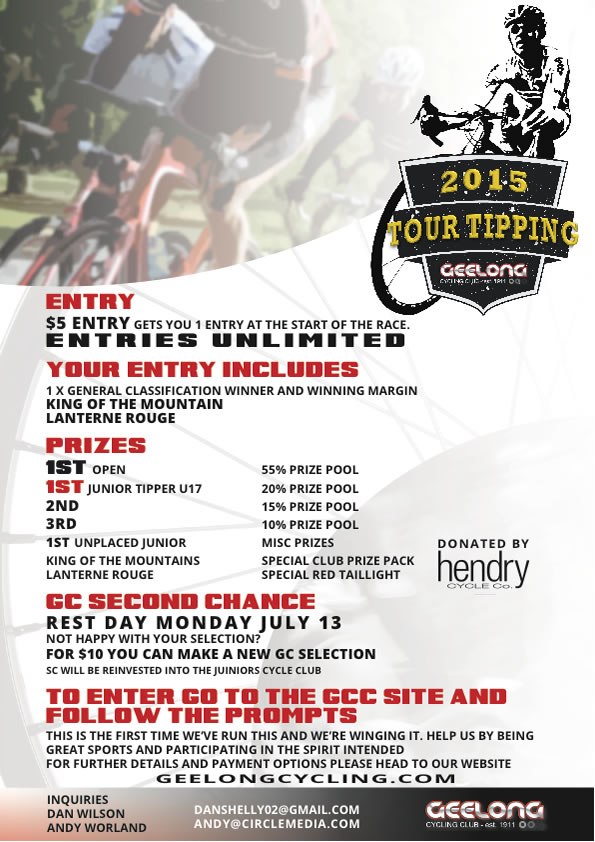 ---
---
GCC TOUR TIPPING 2015 RULES AND REGULATIONS.
In the case of a tie, rider and winning margin (or closest to);
The person who hasn't changed their rider or winning margin at the midpoint will be declared the winner.
 In the event that either both have or haven't changed a selection at the midpoint, 1st and 2nd place prize will be combined and split evenly. There will be no second place awarded and the person finishing second will be relegated to 3rd place.
GC Second Chance
The second chance options will open after the conclusion of the stage on Sunday the 12th. At this point entrants will be able to buy in ($10) again to choose a new GC rider or winning margin. Entrants will only be able to change one of their selections, time or rider, not both.
GC second chance changes will close at 8pm on Monday the 13th of July. There will be no opportunity to change after this cut of time.
Doping Violation
In the event of a doping violation and rider disqualification before, during or after the event the winners will remain the winner in all categories. No correspondence will be entered into. Entrants who are affected by a doping violation or disqualification will be able to buy into the second chance on the 13th of July only.
Under no circumstances will entrants be able to change their rider selections or than by buying into the GC second  chance on the 13th of July.
Glossary of terms:
GCC – Geelong Cycling Club
GC – General Classification
---
A 6 month membership has been introduced by Cycling Australia (CA). This membership is available from June 1st each year. So now you can join mid way through a year without having to pay for full 12 months. By purchasing a 6 month Gold racing licence you can take part in all racing events just …
Read more »