2016/17 Season Race Pass
The 2016/17 Season Race Pass is now available for the Summer race season between October and March. Once again the season pass will see you pre-entered into all events GCC host on the Summer Race Calendar and preclude you from having to do race day marshalling duty.
---
---
2016 Winter Season Wrap
Another winter of road racing has drawn to a close. Here is a quick look a back on the last few weeks of racing.
Club Championships
Nick Squillari went back to back winning both the Road Race & Time Trail to retain the #1 and title of Club Champion for 2017 after producing strong rides in both disciplines. Tom Paton, courtesy of the 2nd place in the RR & TT was runner up with Daniel Stoj taking 3rd.
Some extremely close results were seen in the junior classes, with some really competitive racing.
Full results
Ross Bush Memorial Handicap
The Spring winds were blowing for the 2016 Ross Bush Memorial Handicap. Bunches largely stayed together over the first lap, but the second time up Pringles Rd things exploded. Strong winds and a stomping SCR bunches wreaked havoc on the field.
With the final run to the finish up Robbs Road riders were scattered all over the road. Simon Ward (BSCC ) broke away from his bunch producing a strong ride to hold on for the win. Dom Dudkiewicz (FCC) & Nick Squillari battled it out from SCR for fastest time and 2nd & 3rd place.
Well done to all riders who took part.
Donald Wilson Winter Road Race Aggregate
The Season Finale Handicap also rounded out the 2016 "Donald Wilson Road Race Aggregate". After a break out year at senior level Dom Van Slageren took out the title, with Mark Turnley & Colin Smith rounding out the podium.
Dom's constant improvement and willingness to front up and have a race was rewarded. His ambition is to continue improving and make the leap into the A grade ranks. This won't be too far away.
Mark Turnley one of the clubs most consistent racers scored points throughout the course of the year finished in 2nd place. Colin Smith as only the hard men do used his only ride for the week to have a race. His determination to finish every race he starts is one of the reasons he was rewarded with a podium.
Well done to all the riders that help make it a great season of racing.
Brief postscript to the 2016 Donald Wilson Winter Aggregate.
GCC was pleased to welcome Felicity, daughter of Don and her beautiful family as stand in presenter for our Winter Aggregate.
Felicity, a wonderful rider and a Geelong Cycling Club Champion in her own right graciously took her Dad's place following a serious fall from a ladder a week ago. Felicity gave us a report on Don's injuries and his progress from the Alfred Hospital and more recently in Caulfield Hospital.
Don has broken several ribs and possibly his shoulder however of most concern has been a head injury resulting in a brain clot that required surgery. Confidence is high for Don to make a full recovery given time and a rehabilitation programme he has begun.
Geelong Cycling Club felt the need to acknowledge a steadfast Clubman and a remarkable cyclist so with Don's consent our Winter Aggregate was initiated some three seasons ago. The only condition was, we weren't allowed to call him Donny on the trophy. Despite some health issues in recent years Donny has stayed on his bike dispensing wisdom and mentoring following generations.
Donny has resisted the urge to publish all aspects of his cycling life on Strava, a feature shared with other high achievers who prefer their results speak for them. In Donny's case they speak volumes but briefly,
Olympian, Mexico City 1968. Road Race and Time Trial.
Australian Open Road Race Champion 1975 and 1977.
Recover well Donny, see you back on your bike soon.
MyLaps are looking into an issue that doesn't allow us to upload the final standings to the web.
Below is a copy of the top 30.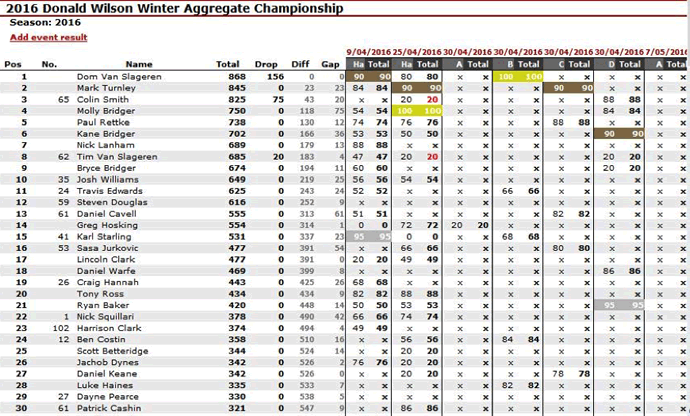 ---
VICTORIAN PENNY FARTHING CHAMPIONSHIPS, 2016
GEELONG CELEBRATING 150 YEARS OF THE BICYCLE
FIRST PATENT 1866
Geelong West Velodrome, cnr Weddell & Church Sts.
Saturday, November 19th & Sunday November 20th, 2016
Please note: a recent security upgrade to Mozilla Firefox has resulted in an issue with this payment gateway.
SportsTG are aware of the issue and have advised that any other browser (eg: Google Chrome or Internet Explorer) will allow you to submit your entry securely.
---
Saturday Events
CASUAL RIDE with Rod Charles. Vintage or modern.
Meet at Geelong West Velodrome at 1pm.
DINNER 6.30pm at Geelong West Football Club Rooms located at the Geelong West velodrome.
Spit Roast $30.00 per person. Drinks at Bar Prices.
---
Sunday Events
(all at Geelong West Velodrome)
Entry Adults $5.00, Children free
Baked potatoes, a coffee and cakes cart, Rotary Club of Geelong West BBQ and cold drinks will be available.
= 9am =
SWAP MEET from 9am, $10.00 per site. 8 am set up.
SHOW & SHINE from 9am, entry $2.00 per bike. 8 am set up.
The Show & Shine is not limited to the listed categories. Don't leave your bike home because you think it doesn't fit a category.
Categories:
Pre 1900
Vintage racing bikes up to 1960; including roadsters
Racing bikes 1961 – 1985, 1985-2000, 2000+
BMX
American heavy weight; includes balloon tyre, tank bike and muscle bike
Best Australian built & Best Overseas built
Dragster
= 10am =
RACES From 10 am. Entry $25.00 per family.
Note that the programme may need to change based on the number of entries.
Helmets compulsory, but please dress to complement the age of your bicycle.
Prizes for best presented rider and best dressed spectators.
Badges awarded to first 3 placegetters plus Sashes for Champions.
Balance bike event for under 5 years (150m)
Junior handicap (2 laps)
Senior handicap
Russell Mockridge Challenge – one rider at a time against the clock
Vintage racing bike race; including roadsters
Velocipede race (1 lap on grass)
Vintage riders (50+) in vintage costume on vintage cycles (pre 1920) (Not penny farthings)
PENNY FARTHING EVENTS
IMPORTANT: Please take note of the rules and regulations for racing.
Slow race 25m (Heats of 4, last to finish wins)
Gentlemen's Championship (4 laps, heats of 4)
Ladies' Championship (2 laps, Heats of 4)
Juniors, Under 16 (2 laps)
High wheel half mile (2 laps, Heats of 4)
Veterans 50-64 years (2 laps)
Veterans 65+ (2 laps)
Penny Farthing Team Pursuit (2 teams of 4)
PRESENTATIONS AT END OF PROGRAMME
---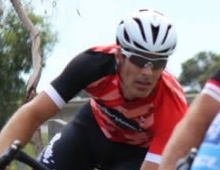 Due to a number of factors that have been out of Geelong Cycling Club's control, we have had to make a few adjustments to the racing calendar in March, including a change of venue and date for the Club Criterium Championships. The Club Criterium Championships will now be raced on Saturday the 5th of March at Eastern Gardens. All the event details can be found on the event calendar. We sincerely apologies for the late notice. It is something that we do our best to avoid, however there are extenuating circumstances that have lead to this last minute change. The combination of a late change of venue for the Victorian Criterium Championships and the late moving of the Mansfield Tour to …
Read more »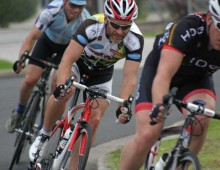 The four race New Year Criterium Series kicks off on the 30th of January with a twilight crit at Belmont. For this series we have team up with MCL (Melbourne Cycling League) to help promote and expand the series. This partnership has allowed us to offer a large prize pool for the top 10 in the series. As a result of this partnership we have introduced a New Year Criterium Series Pass for riders who don't already have a season pass. At $40 ($15 casual race fee), this represents great value for money for riders looking to participate in this exciting series. By purchasing a series pass you will be automatically entered into all four races in the series. The …
Read more »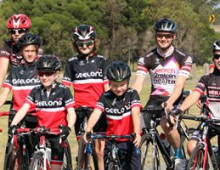 As most members would now be aware Oliver (Ollie) Kent-Spark has fulfilled a lifelong dream recently signing his first pro contract with Irish registered UCI Continental team An Post-Chain Reaction Sean Kelly Cycling. The team was founded by Irish Cycling Legend Sean Kelly in 2006. Many would know recognise Sean's distinctive voice and commentary style on some of Europe's biggest one day races. Ollie will be teaming up at An Post-Chain Reaction Sean Kelly Cycling with long-time friend, past Herald Sun Tour winner Calvin Watson. Calvin has raced the past few seasons at Trek Factory Racing. Ollie is now enjoying his last few weeks training down under before he heads overseas early in January. Ollie will be racing the National …
Read more »
Track Training Mondays 4.15-5.30 Juniors 5.30-7.00 Seniors Track Racing Wednesdays 6.00-8.00 (commencing 21st October) [ Special Offer for those who don't have a Race Licence: FREE 3 RACE LICENCE ]
May I start by offering our heartfelt condolences to Kylie Clarke on the recent death of her Mother and particularly to the boys, Lincoln, Harrison, Fraser and Cooper. How pleasing to see the response to our Summer Racing Program, excellent numbers at both Belmont Island evening criteriums including pleasing fields in A grade at this previously contentious venue where rumors have abounded over its safety. Clearly the Belmont Island track is extremely dangerous for those riders who insist on continuing to pedal on any of the tight corners. After last Tuesday's race it seems action is necessary before this Friday's event to impress upon riders their need to take their responsibilities seriously for the safety of the race and their …
Read more »
U/11 Xavier Starling 19.37 U/13W Madeleine Starling 17.45 U/13 Fraser Clark 19.24 U/15 Bryce Bridger 16.85 Daniel Warfe 17.15 Harry Clark 17.18 Oliver Baric 19.58 U/17 Lincoln Clark 14.70 Kane Bridger 15.52 Flynn McLeod 16.52 U/19 Dom Van Slageren 14.42 Joey McMahon 14.84 U/19W Olivia Davison 15.54 Molly Bridger 15.79 James Blight 12.55 Paul Beasley 14.35 Karl Starling 14.39 Craig Bridger 15.04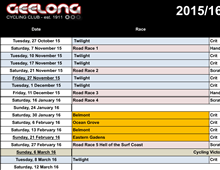 Geelong Cycling Club is pleased to present the 2015/16 Summer Road & Criterium Race Calendar. With a total of 17 road & criterium races, across a variety of terrain, courses and time slots there is something for all riders. A smaller download able calendar will appear on the front page of the website shortly.  For entries and full event details go to the calendar on right hand side of the website under "Up Coming Events". Summer Race Season Pass The season pass is back and again represents incredible value for road, criterium & track riders. Below is a long list of options to cater for riders of all disciplines. Buying a season pass will preclude you from having to do …
Read more »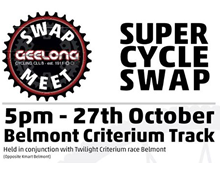 In conjunction with the opening race of the Summer Racing Calendar on the 27th of October, GCC will be conducting a Cycle Swap Meet at the Belmont Criterium Track from 5pm. This is your chance to clear out some old gear or pick up something new. Full details and contacts are on the attached flyer. All welcome so please spread the word among your cycling groups.
Save on 2016 Cycling Australia Membership. Join from today (Oct 1st) and get 3 months free (Oct, Nov, Dec). Regional Race membership for Geelong Cycling Club is just $201 for Masters. Kids Race membership (Under 13 or 11 or 9) is $77. The new Ride Membership which includes insurance, replaces the previous Silver/Recreational licence. Ride membership for adults under 64 is $99; $74 for over 65. 3 months trial Ride membership is just $29. Below is a list of licence categories and pricing. For further information please contact the membership manager, John: membership.geelongcycling@gmail.com Or apply online from today through Cycling Australia website: CA membership application link. Race – Elite and U23 $332.00 This membership allows entry to all open category races conducted …
Read more »
SENIOR Sixty riders, eighty kilometers of racing, 600 meters of climbing, a large bunch finish, 0.023 seconds separating the first two riders, the 2015 Ross Bush Memorial Handicap was one hell of a race. The Annual race that honours the late Ross Bush who was tragically killed while out training 18 years ago was unusually raced in near perfect conditions, cool temperatures and light winds. A small but cooperative limit bunch got things underway, sharing the load and riding consistently over the first part of the race. Next back the 5th SCR (scratch) were working well together, 3rd SCR were flying and quickly picked up 4th SCR to form a super group. A hugely talented and well credentialed SCR bunch …
Read more »